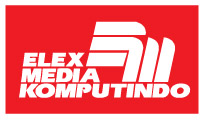 Elex Media Komputindo is a major Indonesian publisher of literature on computers as well as comic books. In addition to local comic books, it also publishes Japanese manga, Korean manhwa, and Chinese manhua.[1] Founded on 15 January 1985, Elex Media Komputindo is within the publishing arm of the Kompas-Gramedia Group. Elex Media is headquartered in Jakarta. It published Doraemon manga in Indonesia as well as other comic books and manga. It is the first Doraemon manga publisher in Indonesia. It provides Doraemon manga in Indonesian language. It started to publish Doraemon in 1992.
Releases
Doraemon
Seri Peralatan Ajaib Doraemon
Doraemon Petualangan (Daichounen Doraemon)
Cerita Spesial Doraemon
Seri Ekspedisi Doraemon
Belajar Menghitung bersama Doraemon
Dorabase
The Doraemons
Doraemon Comic Quiz
Doraemon Story
Community content is available under
CC-BY-SA
unless otherwise noted.