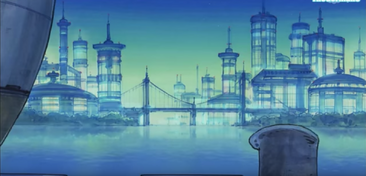 The 22nd century will be a century of the Anno Domini or Common Era in accordance with the Gregorian calendar. It will be the century following the current 21st century, beginning on January 1, 2101 and ending on December 31, 2200. Nobita's great-great-grandson, Sewashi Nobi, lives in this century. Doraemon came from the 22nd century using a Time Machine to Nobita's childhood period to help him.
The 22nd century is more scientifically advanced than the 21st century, thus allowing robots like Doraemon and Dorami to use many gadgets and tools.
Overview
2112- Production of male robotic cats and the introduction of the secret gadgets
2114- Production of female robotic cats and upgrading the function of the secret gadgets
2117- War between the robot cats and robot dogs.
2120- Production of Lulli, however considers a failure due to high horsepower.
The Birth of Characters
Before 2109
2109
2112
2114
2117
2120
Unknown Lineage
Trivia
Gallery
Locations in Doraemon Franchise
22nd century
Sewashi's House ●

Matsushiba Factory

● Robot Academy ●

Hospital

●

Rat Robot Academy
Seaside Aquarium

●

Beach House

●

Secret Gadgets Museum
Cretaceous Period

● Koyakoya Planet ●

Tokaitokai Planet

● Africa ● Bauwanko ●

Mu Kingdom
Atlantis Kingdom

●

Mangetsu's Residences

●

Demon Realm

● Pirika Star ●

Mechatopia

●

Dinosaur Kingdom
Ancient China

● Mountain of Flames ●

Ancient Japan

●

Animal Planet

●

Ancient Persia

●

Sinbad's Castle
Kingdom of Clouds

●

Briki Island

●

Yumemiru Kingdom

●

Dragon Lair

●

Odorome's Castle

● Another Earth
Dreamers Land

●

Forbidden Planet

●

Spiral City

● Tomos Island ●

Rebel Alliance Fleets

●

Moa's Planet
Kingdom of Mayana

●

Temple of Darkness

● Birdpia ●

Robot Kingdom

● Rainbow Valley ●

Wind Tribe Village
Storm Tribe Village

●

Mafuga Island

●

Kingdom of Wannyan

●

Nekojaland

●

Green Planet

●

Kingdom of Mermaids
Aqua Star

● Island of Miracles ● Secret Gadget Museum
Spirit World

●

Ancient Inca

●

Egypt

●

Nasca Line

● Easter Island
Ancient Japan

●

Lost World

●

Brazil

●

China

●

Titanic Ship

●

Kingdom of Brilliance

●

Ancient Egypt