Use your gadgets and help us!
"
In order to save Planet Pokkuru, please lend me your strength!
"

— Aron, Nobita's Space Hero Record of Space Heroes
Aron (アロン) is the key character of the 2015 film Nobita's Space Heroes.
Story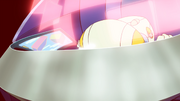 Aron lives in Planet Pockle and dedicated his life to protecting citizens of the planet, especially the children. Later, three mysterious creatures from the other planet comes to their planet and convinces them to improve the planet and re-open as Pockle Land. Aron takes suspicions with their actions and their true purpose of why they went there. While investigating, one of the guards (which is a disguised space pirate) spots him and chases him. Aron uses one of their spaceships to escape and crashes on the planet Earth.
After gain consciousness, he saw the Guardians of the Galaxy's abilities and thinks he finally had someone who can save his planet. He introduces himself as Aron, Planet Pockle's sheriff. He narrates the story about the incident and the group agrees to help Aron.

After Doraemon and his company realizes that everything is real and it is not a film, they retreated and follow Aron in his secret place. Two days late, they come out to battle. Aron tried to warn the councillor and the rest of the citizens, but no one believes Aron.
Nobita
accidentally pushes himself to a well, which leads to the Space Pirates' secret hideout and Aron follows him by the strings Nobita left. Both of them learned that the true purpose of the Space Pirates is to suck the energy of the Planet Pockle to shoot Almas Star. Because of Nobita's actions, he and Aron were both captured by
Meba
. They were kept in the unbreakable glass, along with
Gian
and
Suneo
. The rescue is successful, but
Hyde
uses
Shizuka
as a bait to make the group surrender. Aron requested
Director Burger
to used his abilities to fool Hyde, which is successful.
Back in the secret place, the group reveal that they are not real heroes, which made Aron disappoint, but the group still decided to help Aron save the Planet Pockle rather than to give up and go back to earth.
Aron and the group successfully defeated the Space Pirates and to stop their plans. The councillor apologizes to Aron that he must believe him.
Relationships
Trivia
Aron's appearance greatly resembles Chimpui, another great work from Fujiko F. Fujio
Community content is available under
CC-BY-SA
unless otherwise noted.