She is the wife of Dekisugi in the future and the mother of Hideo.
Appearance
She's a tall attractive woman in her late twenties with short brown hair and grey eyes and is around the same height as Shizuka. In her cameo in Nobita's Bride, her hair is slightly curly in the back.
Relationships
She presumably met her husband in the adult years as both have to work on the same space project on the moon.
She has a good relationship with them as she trusts them in taking care of her son, Hideo while she and her husband work on the space project.
Trivia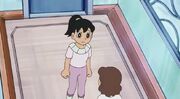 She makes a cameo in the 2014 version of Nobita's Bride.
Community content is available under
CC-BY-SA
unless otherwise noted.