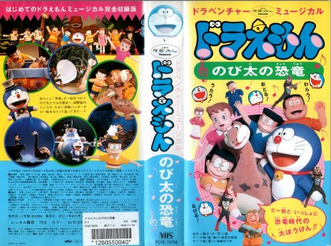 Doraemon: Nobita's Dinosaur Live on Stage was a live adaption of the first film in the Doraemon series, Doraemon: Nobita's Dinosaur. The live adaption received a home video cut by 3DO REAL Panasonic in 1994. The production is a musical retelling of the original film with several differences.
Important Key Differences
The film starts with Nobita mining on the cliff for Piisuke rather than at Suneo's house, however that scene is shown via flashback
Piisuke's egg is found via rock slide on the cliff where Nobita is digging
Nobita's father tries really hard to wrangle the egg from him
Nobita's Mother nearly finds Piisuke in Nobita's closet due to Piisuke being very noisy
The main villain has several main henchmen
The main villain attacks Nobita & Co. while still in the American forrest
The main villain tries several times to directly steal Piisuke
The main villain only manages to abduct Shizuka
Nobita & Co. never leave America, as the Time Patrol show up during a fight, after which they take Nobita & Co. to Japan to drop off Piiisuke.
Trivia
As this is a musical, many exclusive songs are present to this production, along with some recurring classics
The finale Doraemon no Uta features all of the characters singing it.
Footage from the 1980 film is used during the Time TV sequence.
This is the first known Doraemon Live on Stage.
Community content is available under
CC-BY-SA
unless otherwise noted.