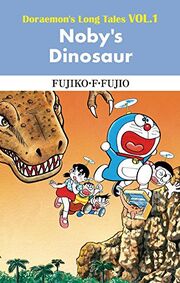 Doraemon Long Stories (大長編どらえもん, Daichōhen Doraemon) is the 24-volume manga series written by Fujiko F. Fujio alongside with Doraemon. The first 16 volumes were adapted into animated movies after serializations, while the remaining eight volumes were based on the anime movies.
The first 17 volumes of this series were written by Fujiko F. Fujio himself, while the last 7 volumes were written by Tadashi Haziko based on the drafts of Fujiko F. Fujio and illustrated by Hagiwara Nobukazu.
The first 17 volumes were officially released in the Amazon Kindle Store in the U.S. and Canada on December 27, 2017 as Doraemon's Long Tales.
The series received a successor in Doraemon the Movie Story, based on the new movies (and reprint of some old ones) after the series' reboot with 2005 series.
List of volumes
Community content is available under
CC-BY-SA
unless otherwise noted.