6,468 articles • 150,015 edits • 26,042 images
This wiki is a collaborative encyclopedia for virtually everything related to the mega-successful Japanese franchise and world of "Doraemon". We hope to provide a definitive resource of information on the cultural phenomenon, all in the English-language! The Wiki allows anyone to create or edit the articles, so we can all work together to create a comprehensive database for the Doraemon franchise.
Fan fiction or fan art are not allowed here.
If you wish to create or edit fan-made stuff, please visit


Movies
Featured Article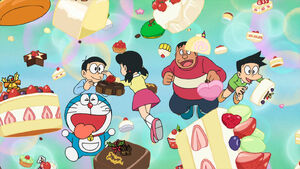 Christmas Cards from the Future is one of the Christmas related episode of 2005 anime. The Christmas Cards was the main gadget used in the episode. Here, the 5 friends played with the cards by greeting each other with a message. The cards translated the wishes into reality and at the end all of them went to a mysterious place where the Chritsmas cake was fluffy.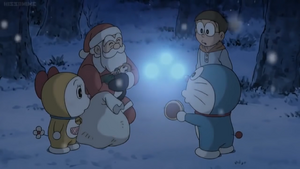 Santa Claus, the Thief Who Came on Christmas Eve is another Christmas related episode of 2005 anime. In this episode, Nobita along with Doraemon and Dorami is seen distributing gifts to the children while wearing dress of santa claus. At the end, they end up searching for the thief who robbed off every gifts.
Helping Out
If you are new to wikis, check out the tutorial, feel free to test any edits in your own personal sandbox, and read the policies and Manual of Style
The Help Area is a great place to learn about the wiki. It contains information for newcomers and regular members alike.
Participating
To write a new article, click the button below and it will take you to the page creation portal.
Do not make any fan fiction articles.
Create New Article
To help fix articles, click the button below and it will take you to a random article.
Do not add false information.
Random Page
Recent Blog Posts
Blogs
Howwa wikiholics! I wouldn't have done this but the way our community has been shaped and the way w…
See more >
The Franchise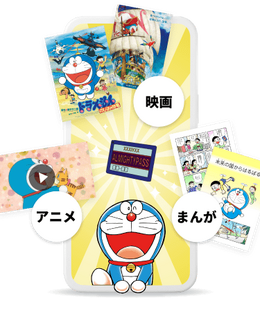 Doraemon (ドラえもん) is a Japanese manga series written and illustrated by Fujiko F. Fujio. The series has also been adapted into a successful anime series and media franchise. The story revolves around an robot cat named Doraemon of 22nd century owned by Sewashi Nobi, who has a lot of gadgets used in the future and travels back in time to help Sewashi's grandfather named Nobita Nobi to shape his future and help him when in trouble.

Since its first anime adaptation in 1973, it has been dubbed into over 20 languages and broadcasted in over 40 nations worldwide!
Featured Video
Video may not play in your country
Wiki Activity
Track the most recent changes to the wiki on this page.
List of abbreviations:
N

This edit created a new page (also see list of new pages)

m

This is a minor edit

b

This edit was performed by a bot

(±123)

The page size changed by this number of bytes
24 June 2022
Official Links
Original Official Links
International Dubbing Official Links