Use your gadgets and help us!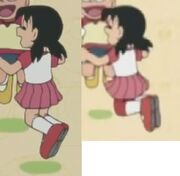 Doraemon in the Arab world refers to the Arabic adaptation of the Doraemon series in the Arab world. Doraemon is called "Abqoor" عبقور, which means a mini Genius, or دورايمون in 1990s. It first aired in 1995 on several television kids channels on Arabic-speaking world. It was aired on free-to-air Spacetoon in 2000s until 2011/2012.
A dub of the 2005 series airs since 7 March 2016 on Spacetoon which aired the Arabic dub of the 1979 series, with censorship applied.[1] Asian distribution, publishing and licensing group Animation International and Japan's TV Asahi are helping to develop a long-term strategy for the property in the region.[2] The original name of the series were retained since they get the copyright for the 2005 series. Some scenes were replaced or censored, or cut due to censorship issues.
When this anime series were first aired on Spacetoon, it was listed to Bon Bon Planet (likely a mistake) and later Comedy Planet.
The Islamic Arabic dub of this anime series is not yet even exist or made.
Videos
This section is currently empty.
It is deemed of worthy of improvement to the article and hence needs to have the appropriate content added to it.
Sources
↑ http://www.sayidaty.net/node/403421/%D8%B3%D9%8A%D8%AF%D8%AA%D9%8A-%D9%88%D8%B7%D9%81%D9%84%D9%83/%D8%A3%D8%B7%D9%81%D8%A7%D9%84-%D9%88%D9%85%D8%B1%D8%A7%D9%87%D9%82%D9%88%D9%86/%D8%AF%D9%88%D8%B1%D8%A7%D9%8A%D9%85%D9%88%D9%86-%D8%A8%D8%A7%D9%84%D9%84%D8%BA%D8%A9-%D8%A7%D9%84%D8%B9%D8%B1%D8%A8%D9%8A%D8%A9-%D9%84%D8%A3%D8%B7%D9%81%D8%A7%D9%84-%D8%A7%D9%84%D8%B9%D8%B1%D8%A8
External links
Community content is available under
CC-BY-SA
unless otherwise noted.