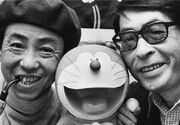 Fujiko Fujio (藤子 不二雄 Fujiko Fujio) was a nom de plume of a manga writing duo formed by two Japanese manga artists. Their real names are Hiroshi Fujimoto (藤本 弘 Fujimoto Hiroshi, 1933–96) and Motoo Abiko (安孫子 素雄 Abiko Motoo, 1934–). They formed their partnership in 1951, and used the Fujiko Fujio name from 1954 until dissolution of the partnership in 1987.
From the outset they adopted a collaborative style where both worked simultaneously on the story and artwork, but as they diverged creatively they started releasing individual works under different names, Abiko as Fujiko Fujio A (藤子不二雄Ⓐ Fujiko Fujio Ē), and Fujimoto as Fujiko F. Fujio (藤子・F・不二雄 Fujiko Efu Fujio).
Manga Michi (1987) is an autobiography of them. How they become friends and developed love for manga – but their passion lead them into different ways in the end.
Community content is available under
CC-BY-SA
unless otherwise noted.