"
You're stupid, do you think you can steal in the museum that easily?...
"

— Ginger
Ginger(ジンジャー Jinjā) is a supporting character in Nobita's Secret Gadget Museum ~museum Adventure~. She is the granddaughter of Professor Peppler who often steals various foodstuffs and dining-related items from the museum, with the help of the Wormhole Pen gadget. She is referred to as Kurt's sister, despite not literally related by blood.
Story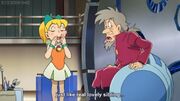 Ginger is a girl who is quite naughty, similar to her grandfather, Professor Peppler. She is rather strict when the dining table is a mess, and always demands that it should be tidy up before a meal. Because she and her grandfather cannot risk exposing themselves to the outside world, Ginger often scrimmages for foodstuffs in the museum, like Director Fiks's red tea and sugar, plus Gonsuke's sweet potatoes.
Ginger is known to be like Kurt's little sister. In the film, Kurt has tea and said he wants to have dinner with her, she said that mostly because her food is good. Nobita, Doraemon and Shizuka met her once but don't know who she is and the film doesn't show any contact between them and Kurt doesn't introduce her.
She also functions as a straight man to her grandfather who sometimes lapsed into a mad scientist-like persona. While Dr.Peppler claimed that he purely hates Dr. Hartman, Ginger corrected his claim that it's quite the opposite as Dr. Hartman is the only one who understands his intention and whole heartily supported him.
Appearance
Ginger is a girl with fair skin and short golden blonde hair tied with a cyan-green bow in a ponytail. She has brick eyes and is slightly shorter than Kurt. She wears a green dress with fishnet sleeves with a yellow and orange apron and white and orange shoes.
Personality
This section is currently empty.
It is deemed of worthy of improvement to the article and hence needs to have the appropriate content added to it.
Relationships
Community content is available under
CC-BY-SA
unless otherwise noted.