The Mountain (裏山 urayama lit."behind the mountain"), also known as the Hill behind the school or simply known as Back Hill, is a recurring location in the series behind the school that Nobita and friends attend. It's notable for being the only place with large amount of greenery and plants left in Nobita's neighborhood.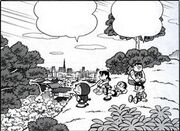 The place is also used by the gang many times for their secret base or just for recreation. Gian also once used the area to burn his test score papers. Although the exact size wasn't known, the area appears to be very large. The area is also known for the thousand years pine tree, the tallest tree in the mountain where children often climb. Suneo once hid his test score under said tree.
The oldest tree in the area is known as the Grandfather Tree, the tree was cut after it's structural integrity is doubted. The Grandfather tree, was the tree the kids love so much. They played games and done a lot of things around the shade of the big cherry tree.
Trivia
Locations in Doraemon Franchise
Cretaceous Period

● Koyakoya Planet ●

Tokaitokai Planet

● Africa ● Bauwanko ●

Mu Kingdom
Atlantis Kingdom

●

Mangetsu's Residences

●

Demon Realm

● Pirika Star ●

Mechatopia

●

Dinosaur Kingdom
Ancient China

● Mountain of Flames ●

Ancient Japan

●

Animal Planet

●

Ancient Persia

●

Sinbad's Castle
Kingdom of Clouds

●

Briki Island

●

Yumemiru Kingdom

●

Dragon Lair

●

Odorome's Castle

● Another Earth
Dreamers Land

●

Forbidden Planet

●

Spiral City

● Tomos Island ●

Rebel Alliance Fleets

●

Moa's Planet
Kingdom of Mayana

●

Temple of Darkness

● Birdpia ●

Robot Kingdom

● Rainbow Valley ●

Wind Tribe Village
Storm Tribe Village

●

Mafuga Island

●

Kingdom of Wannyan

●

Nekojaland

●

Green Planet

●

Kingdom of Mermaids
Aqua Star

● Island of Miracles ● Secret Gadget Museum
Spirit World

●

Ancient Inca

●

Egypt

●

Nasca Line

● Easter Island
Ancient Japan

●

Lost World

●

Brazil

●

China

●

Titanic Ship

●

Kingdom of Brilliance

●

Ancient Egypt