Muku, or Pork Chop in English dub, is the pet dog of Gian, and acts as a supporting character in the anime.
Appearance
He is a male brown dog with a dark-coloured mouth and nose in the 2005 version, but has a lighter mouth and nose in the 1979 version. Muku also wears a green-coloured collar that Gian has gifted it.
Personality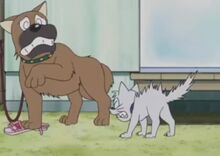 He is shown to be a shy and unintelligent dog. Muku tries to be as brave as Gian, who praises his strength and courage, but in many emergencies he just runs away and enrages Gian. Muku is very fond of Gian's sister, Jaiko. At first, Gian didn't want him around and tried to get rid of him, but after he saved Gian from being eaten by a lion that had at first tried to eat Nobita, Gian warmed up to him. Muku occasionally shows the bad habit of gathering things from the locality in his kennel, much to Gian's embarrassment and his mother's displeasure.
Occasionally, in other manga chapters, Muku is shown as an aggressive and aloof dog, stealing from others.
Relationships
Despite beating up Muku, which Gian occasionally does, he still loves Muku as seen in some episodes. Gian is quite cruel to Muku, not treating him very well. In some chapters and episodes, he rarely ever feeds or walks him. This could be the reason why he is very timid and ditsy.
Jaiko loves Muku very much and takes him on walks regularly unlike Gian.
Trivia
Despite being a dog, Muku is afraid of cats.
He hates Gian's cookery equally as much as Jaiko does.
Community content is available under
CC-BY-SA
unless otherwise noted.