This article is for Nobita Nobi's son.
Don't confuse this character with Nobisuke Nobi, Nobita Nobi's father.
---
Nobisuke (ノビスケ Nobisuke) is the only son of Nobita and Shizuka. As his name is the same as Nobita's dad (a.k.a. his grandfather), his name is presented in Katakana, instead of Hiragana which is used to present Nobita's father's name.
One of his most prominent appearances was when he ran away from home and visited Nobita's childhood years. At the end, Doraemon made him go home by bringing Nobisuke's own son (Nobita's grandson), who accused him of harsh parenting.
In one episode, it's suggested that Nobisuke got married 45 years after Nobita's childhood, and had his honeymoon on the Moon.
Appearance
His most well-known appearance is in Mini-Dora SOS!!, where he and his two friends (Suneki and Jaichibi, the sons of Suneo and Gian respectively) end up misusing Mini Dora. They are essentially the Three Stooges of their time, staying friends as they always get even with each other.
Though similar to his dad in laziness, Nobisuke is shown to be a better athlete than his father (with proficiency of at least baseball and soccer), as well as sly and violent. His notable abuse victims include
Nobita
(in his child age),
Doraemon
,
Gian
(also in his child age), as well as the sons of both
Gian
and
Suneo
.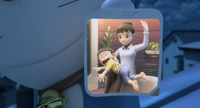 Unlike Nobita, Nobisuke lacks any of the calmness and passion his father has, which has troubled Shizuka on occasion.
Trivia
He is married to a girl named Yukari.
It's suggested that Nobisuke has at least two kids because in volume 21 of the manga, it is revealed that Sewashi has a cousin who looks almost exactly like Shizuka.
In the short movie Mini-Dora SOS!!, his name is credited as Nobi instead of Nobisuke. (This may be an error.)
In the 1979 anime adaption of Nobita's Son Ran Away From Home and Time Skipping Pulley, Nobisuke's hair is brown
In the 1979 anime adaptation of Nobita's Bride, Nobisuke wears glasses like his father whereas later appearances would show him without glasses.
His appearance is similar to the Bully-Noby from The Opposite World Mirror.
Community content is available under
CC-BY-SA
unless otherwise noted.