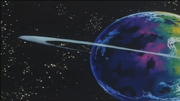 Pirika Star is a planet that first appeared in Doraemon: Nobita's Little Star Wars. The planet is inhabited by a small humanoid race led by President Papi.
Description
Pirika Star is small planet with similar geography to earth. It also has a small ring around it.
Major Event(s)
General Gilmore's Coup
See General Gilmore's Coup for more information
Residents
List of all known Residents
Locations in Doraemon Franchise
Community content is available under
CC-BY-SA
unless otherwise noted.