As Doraemon is a very popular anime and manga series, there are many references/parodies to the series in other manga and anime. Other characters have also made cameos in the Doraemon series as well.
Characters appearing in multiple Fujiko F. Fujio works
AIBOU
Episode's plot is kicked off by Doraemon and Nobita watching an episode of AIBOU (spelled with slightly different kana for its anime version), and Nobita wishing he could have an "aibou" of his own.
Ao Haru Ride
Keroro Gunso / Sgt. Frog
In the episode 17b "Fuyuki, Welcome to Horror World (English: Fuyuki Presents: Night of the Living Room!)", the series has referenced an Doraemon manga chapter "Multiplication Liquid". Thus, this is the only Doraemon reference were translated into English until 2013.
A few Doraemon's gadgets were also appear in wherever the manga chapters or anime episodes, and The Open Lot were appeared in a special 30 minute episode where Keroro places cardboards in order to break the world record until the China Wall while Giroro, who never noticed the cardboards placed on his head, sneezes.
Binbougami ga!
Carnival Phantasm
CoroCoro Comic
There is a parody of CoroCoro Comic in the Doraemon anime called GoroGoro (ゴロゴロ) Comic. Nobita owns many GoroGoro issues and they are usually read by him or Doraemon. GoroGoro issues are always just background props in the anime.
Chibi Maruko-chan
Chimpui
Clannad
In the visual novel, Fuko describes a cat with no ears, a pocket on its stomach and it's favorite food being dorayaki, and Tomoya thinks that it must be a robot cat from the future.
Crayon Shin-chan
Crayon Shin-chan
started airing on TV Asahi in 1992 along with
Doraemon.
Sometimes the special episode of this anime can cause Doraemon anime in hiatus. There's also a Doraemon parody there in this anime.
Danganronpa
Part of the dark humor in Danganronpa is that in the original Japanese version of Danganronpa, Monokuma is voiced by Nobuyo Oyama, the former voice actress of Doraemon. The manga is making reference to Doraemon on page 20, panel 1 and on page 69, panel 2 (and also in panel 3 to Korosuke, another character from the creator of Doraemon).[1] In Chapter 4 of the Danganronpa second game, it is revealed that Monokuma and Usami both hate and are afraid of mice. This is another reference to his resemblance to Doraemon, who is terrified of mice ever since a robotic mouse gnawed off his iconically-absent cat ears.
Dr. Slump
Arale Norimaki compares Senbei Norimaki to Doraemon.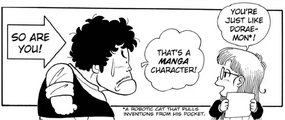 Samurai Pizza Cats / Kyatto Ninden Teyandee
Doraemon also only make appearances on episode 44 "Pinch! The Masamasa is Stolen" (English: Gone with the Ginzu).
D-Frag
Due Chitose says: All mine is mine, and if he also has something that isn't needed, so that it's also mine!
Then featured Takeshi Gouda (Gian) from Doraemon to accentuate Chitose's image.
Happy Friends
This Chinese animated series, also known as Happy Heroes, features a reference to Doraemon in episode 15 of Season 7, "I Am a Cat". In the episode, Fat Tiger is looking for new recruits for Cat Planet and rejects a cat who looks like Doraemon, saying he can't hear orders without ears (a spoof on how Doraemon lacks ears). The same scene also features potential recruits resembling Garfield and Hello Kitty.
Hello Kitty
Mami the Psychic
Super Mario
Monogatari
Nekomonogatari White
In episode 3 of season 2, Shinobu compares Napoleon to Shizuka based on his bath love.
Nadeko Masuda
Nadeko also makes a reference in episode 11.
Hitagi End
Then Nadeko refers to it again in Hitagi End 2, saying that Nobita played cat's cradle and text came up related to it.
Ninja Hattori-kun
Mrs Mitsuba appears in an episode of Doraemon, in one of Doraemon's dreams. Koike Yamada appears as a cameo in Doraemon where he eats ramen.
In a Doraemon manga, Nobita is seen holding a Ninja Hattori manga. The cover of the manga resembles the second issue of the Tentomushi Comics Ninja Hattori series.
Nisekoi
No Game, No life
Perman
Perman is a minor character in the Doraemon series. The gadget Copy Robot looks exactly like the doll Mitsuo Suwa uses to clone himself in Perman.
Dora・Q・Perman is a crossover special of Doraemon, Perman and Obake no Q-tarō.
Pokémon
The plot of the Pokémon episode Battling the Bully! is a tribute to Doraemon, with Mick, Glenn and Sean having similar roles to that of Nobita, Gian and Suneo, respectively.
Q.Q. Sweeper
Ojamajo Doremi
Sumire
Gintama
Q-taro the Ghost
Dora・Q・Perman is a crossover special of Doraemon, Perman and Q-taro the Ghost.
Terminator
Hollywood's "invulnerable" Terminator robot character made a cameo in the one-hour special A Beautiful Girl that Nobita Loved.[2] The "dream matchup" was described in the Japanese press as a confrontation between America and Japan's robots.
Johnny Depp (Pirates of the Caribbean)
Johnny Depp, the international star of the Pirates of the Caribbean movies, made a cameo in The Great Pirate Decisive Battle ~Love Romance of the Southern Sea~. The cameo came about when Doraemon chief director Kōzō Kusuba, a fan of Pirates of the Caribbean ever since the first movie, made Depp an offer for a "dream collaboration." According to the studio Shin-Ei Animation, Depp reportedly agreed "because it's Doraemon".[3]
Osomatsu-san
In episode one of Osomatsu-san titled: Osomatsu-kun Returns" there is a series of references to other anime series'. Doraemon appears alongside Goku from Dragon Ball Z.
Yo-Kai Watch
From "Yo-Kai Watch The Movie: The Secret of Birth, Nyan!"
Whisper also acts like Doraemon in this movie, as he does a Time Machine replica joke.
AKB48
It's Started With a Kiss
Rosario + Vampire
In Rosario Vampire II Chapter 7, when Yukari Sendo taking out her magic item "Growing Drop", her hand suddenly become Doraemon's hand. While Kokoa Shuzen replies "Ah! The hand is in the wrong place.". Later in Rosario Vampire II Chapter 41, when Touhou Fuhai try to stop Ghoul Form Tsukune Aono, he claims that now he being powerless isn't any different than Doraemon without his 4D Pocket.
Kuso High School / Lawak Kampus
Due to copyright issues, when the characters from Doraemon series made an cameo appearance, their eyes were blurred with squares. Other characters that not from Kuso High School / Lawak Kampus such of Patrick from Spongebob Squarepants were having their eyes blurred.
Cyborg Kuro-chan
When Kuro pulls out his sword for the first time in manga chapter 3, he mentioned Doraemon's name.
One of the Dr. Go's robots (only appeared on manga chapter 34 and anime episode 45) holding a gadget that smiliar to Gulliver Beam Light.
An modified Air Cannon appeared for a brief second in anime episode 49.
Naruto
In an censored scene of an episode, Naruto is seems holding an lunch box with Doraemon and the Japanese logo of the series.
Shop Empire Deluxe
Shop Empire Deluxe is an mobile game, that features Doraemon as an special customer.
Amazing QQ
The 8-episode Malaysian live-action children show Amazing QQ (Chinese: 神奇QQ) take heavy inspritation from the Doraemon series. Wherever QQ'S gadgets, and the episodes, were also take heavy inspritation from the series. The difference is the series take place in Malaysia while Doraemon series take place in Japan.
However, a few gadgets looks different, but the function is same.
Character names
Episode title cards
As of now, the complete series can be seen on YouTube.
Sources
↑ https://books.google.nl/books?id=ISbiDAAAQBAJ&pg=PT4&lpg=PT4&dq=reference+doraemon&source=bl&ots=Z3rwqgGS44&sig=9zosaXe_zR-0OX0KJfyrslQ33iE&hl=en&sa=X&ved=0ahUKEwjYl_e339DSAhWInRoKHTYgDdc4FBDoAQhIMAk#v=onepage&q=reference%20doraemon&f=false
Community content is available under
CC-BY-SA
unless otherwise noted.