Shizuka's friend is an unnamed character in the series. She is commonly credited in the credits as Classmate (クラスメイト Kurasumeito) or Girl (女の子 On'nanoko, literally meaning female child), and is a background character of the series. She has been rumoured by fans as the wife of Dekisugi, due to her striking resembling to the wife and she was seen together with Dekisugi in one episode. Her most prominent appearance was in the episode Gravity Paint, where she has a speaking role and is treated as a supporting character in the episode.
[UPDATED]
In Episode 609 "Arranging Railway by Myself", she's finally revealed her name as "Tachibana" where the name is displayed on the train route map.
Appearance
She has brown curly hair. She commonly wears a yellow blouse with a red or orange skirt.
Her clothes sometimes follow a pattern. If she wears a red skirt she is usually wearing orange shoes with it, but if she wears her orange skirt she wears red shoes with it.
Relationships

They were seen together in some episodes, notably 
Gravity Paint
. They also appeared together in the 2005 anime episode
Suneo is the Ideal Big Brother
. They appeared together along with other girls in the 2005 version of
Romance in the Snowy Mountain
.
In the episode
Trying to Goodbye
, both of them went together to bid farewell to Nobita when he was going to transfer to America.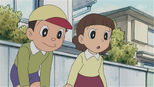 In some episodes she's both with him, especially in some scene with
Haruo
too.
Trivia
Community content is available under
CC-BY-SA
unless otherwise noted.