Sumire Hoshino (星野スミレ Hoshino Sumire) is a famous teen celebrity in the time of Nobita. She is also known as Parko (パー子 Pāko) in Perman.
Appearance
Appearances in Doraemon
The Almighty Pass
Sumire was visited by Nobita and Shizuka, who used Almighty Pass to enter her house and spent time chatting with her. However, the gadget's effect wore off at 6pm and the angry Sumire chased them out of her house. 
---
The Pitch-Black Pop Star
---
What a Scoop! Nobita and the Secret Date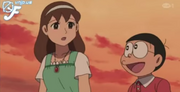 As Nobita flash himself with the Noticeable Light, he was famous around Japan. Nobita runs fast as he almost got a car accident. The one who rides the car is Sumire, since famous already she was ineffective with the Fame Light and help Nobita escape by inviting him in her car. Both the two have some snacks with their disguise on. As soon Sumire removes her glasses she was spotted with 2 girls and both Nobita & Sumire get back on the car and move away. They went to the beach where no people will disturb them. 
---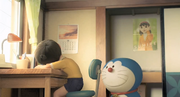 First, she appeared in one of the posters of Doraemon in Nobita's closet. Her hair is black instead of brown. Then later her name showed in one of the ads in the venue of Nobita & Shizuka's wedding.
Personality
She's nice, kind-hearted, and helpful.
Appearance
She wears a hairband.
Relationships
She used to fight with him but started falling love with him not because he is Perman but as Mitsuo his heart is pure and he loves everybody and can do anything by sacrificing his life. This quality inspired her a lot.
Trivia
Sumire is one of the Permans in the manga series Perman (also by Fujiko), but her age in this series is older than her age in Perman. It may happen due to the age difference in the releasing of Manga as Perman Manga was released in 1966 where as Doraemon was in 1969. And so she is 14 now.
In the episode What a Scoop! Nobita and the Secret Date, when Nobita asks her who her favorite person is, she opens her necklace locket and shows him a picture of an adult Mitsuo Suwa, one of the Permans in the Perman anime.
Her name Sumire means "Violet flower" which came from its kanji(菫) although her name is written in Katakana instead of Kanji or Hiragana, while her surname Hoshino literary means "field of stars".
Community content is available under
CC-BY-SA
unless otherwise noted.