Tame (多目 Tame), or Tommy in the UK and US version, is one of the minor characters of Doraemon, only appearing in Someone Who's an Even Bigger Failure in Life Than Me Showed Up and its remake.
Personality
He is somewhat more clumsier than Nobita. He scores badly on his tests and moves slower than Nobita.
Relationships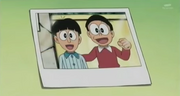 Nobita and him were good friends but Nobita once thought that he's even better than Tame. This made Nobita realize that he is doing what Suneo did to him and corrected himself. Tame and Nobita teamed up together in events such as racing in the footrace and using Nobita to be safe from Gian. As Gian's team lost, Gian and Suneo were about to punch Tame but Nobita stopped them and fought Gian and Suneo but fails as he is beaten up by the duo. Nobita says sorry to Tame for using him to get a higher place and Tame accepts the apology. Later, Tame is seen leaving with his mother in the town.
Trivia
His name means All-rounder or Versatile, which is ironic as he is slow and does poorly in school.
Community content is available under
CC-BY-SA
unless otherwise noted.