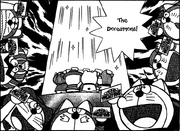 The Doraemons (ザ☆ドラえもんズ Za Doraemonzu) is a spin-off of the long-running series; Doraemon. It was serialized by Shogakukan and illustrated by Doumei Tanaka.
The first six volume focuses on the Doraemons, while the special focuses on Nobita's adventures with the Doraemons gang. The series also introduces various new characters and stories, such as the Spanish version of Gian and Dorami and Kid's relationship.
Plot and characters
The Doraemons is a kind of an old boys' association of the Robot Academy (ロボット学校 Robotto Gakkō), which all seven members attended. Each and every member enjoys Dorayaki, but usually add their own preferred seasoning.
The septet are bound by gadgets called Shin'yū Tereka (親友テレカ close friends telepathy card), as a token of their oath of eternal friendship.
Each of them work as a public servant, either in a body or not. The members are:
Allies Of The Doraemons
Antagonists
Manga
The Doraemons were collected into tankōbon (trade paperbacks), the following three manga series exits:
Chapters of the manga
Main article: List of The Doraemons manga chapters
Anime
The Doraemons characters made their first apparition in the 1995 short film 2112: The Birth of Doraemon. There also exist several short animated films of The Doraemons, released alongside Doraemon's theatrical movies.
The Doraemons Films
Dorami-chan and Doraemons Films
External links