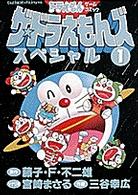 The Doraemons' Special (ザ☆ドラえもんズスペシャル Ya Doraemonzu supeshiaru) is a manga series about the The Doraemons. It focuses on Nobita's adventures with the Doraemons gang. It was written by Masaru Miyazaki and illustrated by Yukihiro Mitani. The series ran for total of 12 volumes.
Chapters
The Girl From The Spirit World
The High Speed Demon
In The Dragon's Belly
The Demon Guards
The Hundred Eyed Demon King
The Deciding Battle
Wangdora The King Of Fighters 1
Wangdora The King Of Fighters 2
To find the Natural Enemy
The Lost Kingdom Arc
The Kingdom of Brilliance
The One Chosen by the God
The Truth Behind the God
Doramed's Decision
The Mirage at the End of the Sky
Legend of the Red Ogre
SOS
Exam Crisis!?
The Cursed Mask (Part 1)
The Cursed Mask (Part 2)
Nobi-Oka-Jizen-no-Kami!?
Characters
Volumes
Community content is available under
CC-BY-SA
unless otherwise noted.