Ikiteru Ikiteku (生きてる生きてく) is the ending song to the 2012 Doraemon movie Doraemon: Nobita and the Island of Miracles ~Animal Adventure~. It was performed by Japanese singer Fukuyama Masaharu.
Lyrics
不思議なものだ
子供のころは大人になんてなれないのに 大人になれば「ときめく」だけで いつでも子供になれる
いままで生きて 出した答えは 正解よりも間違いのほうが多いよ 僕は間違いながら 大人になってきたんだ
こんな僕の人生のいいことやダメなことが 100年先で頑張ってる遺伝子に 役に立てますように いまを生きてる
いままで人を好きになって 傷つけたこと よく覚えてる 「伝える」ことや「わかり合う」って 好きになるほど難しい・・・
こんな僕の青春の傷跡や甘酸っぱさが 100年先で恋をしてる遺伝子に 勇気になれますように 今日も生きてく
失敗とか後悔から 「覚悟すること」を学んだ 逃げられない苦しみに 悲しみに勝つために
大きな夢をひとつ持ってた 恥ずかしいくらいバカげた夢を そしたらなぜか小さな夢が いつのまにか叶ってた
そうだ僕は僕だけで出来てるわけじゃない 100年1000年前の遺伝子に 誉めてもらえるように いまを生きてる この生命で いまを生きてる
今日も生きてく
Fushigi na mono da
Kodomo no koro wa otona ni natte narenai no ni Otona ni nareba "tokimeku" dake de Itsudemo kodomo ni nareru
Ima made ikite dashita kotae wa Seikai yori mo machigai no hou ga ooi yo Boku wa machigai nagara Otona ni natte kita nda
Konna boku no jinsei no ii koto ya dame na koto ga 100nensaki de ganbatteru idenshi ni Yaku ni tatemasu you ni Ima wo ikiteru
Ima made hito wo suki ni natte Kizutsuketa koto yoku oboeteru "Tsutaeru" koto ya "wakariau" tte Suki ni naru hodo muzukashii…
Konna boku no seishun no kizuato ya amazuppasa ga 100nensaki de koi wo shiteru idenshi ni Yuuki ni naremasu you ni Kyou mo ikiteku
Shippai toka koukai kara "Kakugo suru koto" wo mananda Nigerarenai kurushimi ni Kanashimi ni katsu tame ni
Ooki na yume wo hitotsu motteta Hazukashii kurai bakageta yume wo Soshitara nazeka chiisa na yume ga Itsu no ma ni ka kanaeteta
Sou da boku wa boku dake de dekiteru wake ja nai 100nen 1000nenmae no idenshi ni Homete moraeru you ni ima wo ikiteru Kono inochi de ima wo ikiteru Kyou mo ikiteku
Videos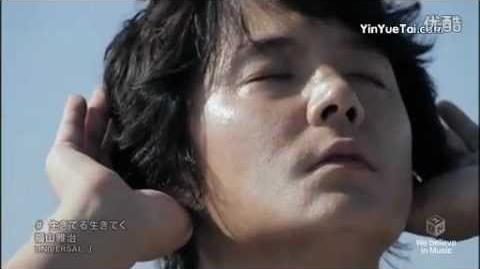 Gallery
1973 anime
Doraemon Rumba
1979 anime
Aoi Sora wa Poketto sa(1979-1981) ● Maru-gao no Uta(1981-1984) ● Santa Claus wa Doko no Hito(1983) ● Bokutachi Chikyuujin(1984-1988) ● Aozoratte Iina(1988-1992) ● Ashita mo Tomodachi(1992-1995) ● Boku Doraemon(1995-2002) ● Mata Aeru Hi Made(2002-2003) ● Tanpopo no Uta(2003) ● YUME Biyori(2003-2004) ● Aa Ii na!(2004-2005) ● Doraemon Ondo(?) ● Doraemon Ekaki Uta(?) ● Dorami-chan no Ekaki Uta(?)
2005 anime
Odore Dore Dora Doraemon Ondo(2005, 2007, 2008, 2009, 2010, 2011, 2012, 2013) ● Doraemon Ekaki Uta(2010) ● F-Gumi no A-I-U-E-O(2011, 2012, 2013) ● Yume wo Kanaete Doraemon(2011-2012, 2013,

2014

, 2015) ● Ikiteru Ikiteku(2012) ● Jaian ni Boeboe(2012, 2013) ● Friends of the Heart(2012) ● Mirai no Museum(2013) ● Happy ☆ Lucky Birthday!(2013, 2014, 2015) ● Hikari no Signal(2014) ● 360°(

2015

) ● Himawari no Yakusoku(

2015

) ● Untaka Dance(2015-2016) ● Sora e(2016) ● Dorami-chan no Ekaki Uta(?)
Movies
Pocket no Naka Ni(1980, 1981) ● Dakara Minna De(1982) ● Umi wa Bokura to(1983) ● Kaze no Magical(1984) ● Shounen Ki(1985) ● Watashi ga Fushigi(1986) ● Tomodachi Dakara(1987) ● Kimi ga Iru Kara(1988) ● Toki no Tabibito(1989) ● Ten Made Todoke(1990) ● Yume no Yukue(1991) ● Kumo ga Yuku no Wa(1992) ● Nanika ii Koto kitto aru(1993) ● Sekai wa Guu Chokki Paa(1994) ● Sayonara ni Sayonara(1995) ● Watashi no Naka no Ginga(1996) ● Love is You(1997) ● HOT MILK(1998) ● Kisetsu ga Iku Toki(1999) ● Kono Hoshi no Dokokade(2000) ● Love You Close(2001) ● Issho ni Arukou~Walking into Sunshine~(2002) ● Mata Aeru Hi Made(2003) ● YUME Biyori(2004) ● Boku Note(2006) ● Kakegae no Nai Uta(2007) ● Te wo Tsunagou(2008) ● Taisetsu ni Suru Yo(2009) ● Kaeru Basho(2010) ● Tomodachi no Uta(2011) ● Ikiteru Ikiteku(2012) ● Mirai no Museum(2013) ● Hikari no Signal(2014) ● 360°(2015) ● Sora e(2016) ● Boku no Kokoro wo Tsukutte yo(2017) ● Doraemon(2018) ● THE GIFT(2019)
Community content is available under
CC-BY-SA
unless otherwise noted.