Characters and/or events depicted in this article belong to the real world and not any continuity.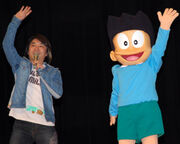 Tomokazu Seki (born September 8, 1972, Fukagawa, Tokyo, Japan) is a Japanese voice actor. He is the current voice of Suneo Honekawa in the 2005 Doraemon series and the movies.
Characters Voiced
Songs Sung
Gallery
Trivia
His favourite anime is Getter Robo.
His favourite voice actor is Akira Kamiya.
When he's not voice acting, his hobbies are napping and making models.