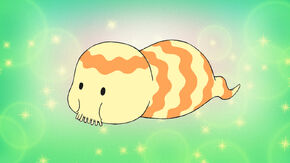 The Tsuchinoko (ツチノコ or 槌の子), literally translating to "hammer's spawn," is a legendary snake-like cryptid from Japan. The name Tsuchinoko is prevalent in Western Japan, including Kansai and Shikoku; the creature is known as bachi hebi (バチヘビ) in Northeastern Japan.
Originally thought to be a mythical creature, the Tsuchinoko was found by Takeshi Gouda while he was at the open lot (But the truth is, Doraemon and Nobita Nobi brought the same Tsuchinoko to the present time before it sneaked out of their home and on its way to the open lot).
70 years later, there would be a trend in owning a Tsuchinoko, an alternative to conventional pets such as cats and dogs, as a pet.
Appearances in Doraemon
I Found a Tsuchinoko! (Mange & Anime)

Main article: I Found a Tsuchinoko!
The Search for Tsuchinoko (1979 series remake of previous episode)
Main article: Look for the Tsuchinoko
In this episode, Nobita goes to search for a Tsuchinoko deep in the mountain and manages to catch it. He, however, releases it in frustration as he believes that it was a fake one prepared by Doraemon (which isn't true). After recovering the Tsuchinoko, Nobita decides to return it to the mountain where it belongs.
Stand by Me Doraemon
After Doraemon's departure, Suneo said to Nobita that he saw a Tsuchinoko in one of the pipes which Nobita believes. But it was actually a prank for Nobita on April Fools Day.
Merchandises
After the episode aired in 2012, Sekiguchi released Tsuchinoko plushies in limited toy stores & online in Japan. The appearance is similar in the anime. The price ranges from 950 yen to 1,566 yen.
Community content is available under
CC-BY-SA
unless otherwise noted.