Use your gadgets and help us!
Uranda is the primary-secondary antagonist in Nobita and the Wind Wizard. He is a malevolent spirit of the Storm Family from ancient times. He seeks to awaken the Mafuga so that he may control the world. He had taken over a wolf's body and later Suneo's body in the story.
Appearance
Uranda has been dead for many years now, thus his form is of a spirit. He looks like a wrinkly old man with white long beard. He wears Storm Tribe clothes.
Story
Uranda is a spirit at the present time. Long-time ago when he was alive he created Mafuga to destroy the world, but Noajin defeated it. Mafuga is separated into three eggs; The orange (Fuuko) and blue (Gorado) are buried along with him by the Wind Tribe, and the red one is stuck with the sword Noajin uses. However, the Storm Tribe can awake Uranda and the two eggs are flying away. The spirit of Uranda possesses the wolf that night.
After Doraemon and friends are back from the Wind Village, the wolf follows them through Dokodemo Door and the Uranda spirit possesses Suneo. He asks Doraemon for the door to the Wind Village to catch Fuuko and Gorado. That night he can capture the latter. The next day Nobita and friends visit the village again the Fuuko comes back to Nobita. Unfortunately, the Storm Tribe lead by Suneo and Storm are attacking them and capture Fuuko. Storm also steals Doraemon's pocket.
At that night the Storm Tribe is having a party because the two of them are there. However, Nobita can take Fuuko away. However, the next day Fuuko is captured by Suneo again.
At the Southern Island (Dragon-headed Island or Mafuga Island) Suneo is searching the red egg and pull the sword out. Doraemon and Gian are trying to stop them but failed. After successfully pulling the sword out the spirit of Uranga comes out of Suneo's body and wakes Mafuga up. However, he is later betrayed by Storm, who trapped him in the 4-Dimensional Pet Bottle with his pendant stuck on the nozzle.
Personality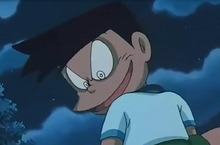 Uranda is a forceful spirit that is blinded by his thirst for power. He is notably cruel to the Wind Tribe, and treats his Storm Tribe disciples with ferocity, but not as cruel. Simply put, Uranda is a very atrocious person.
Community content is available under
CC-BY-SA
unless otherwise noted.